Champion of Higher Education
Awarded by the Campaign for College Opportunity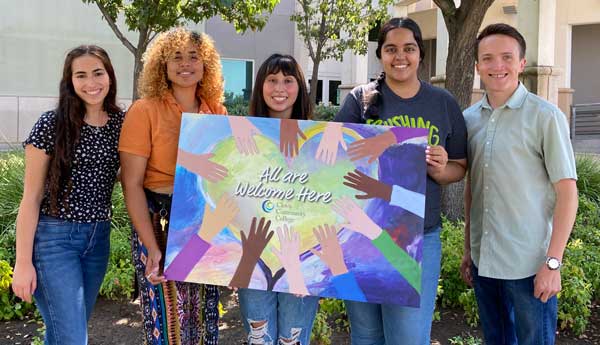 Clovis Community College is the college of choice for academic excellence, innovation, and student achievement.
Student Enrollment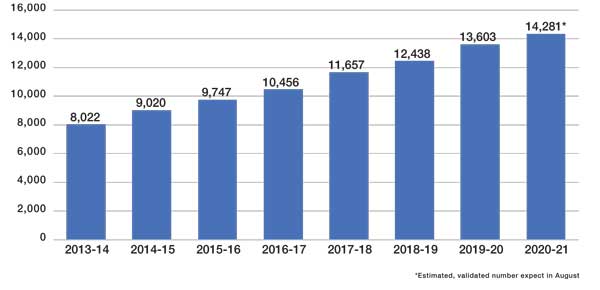 Degrees & Certificates Awarded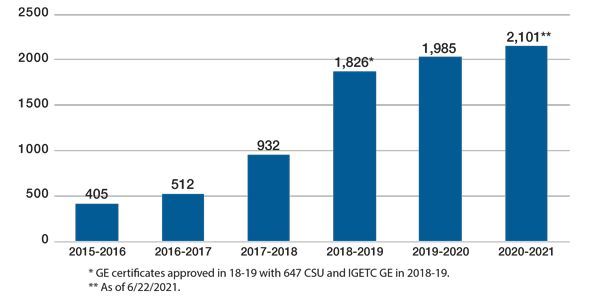 Demographics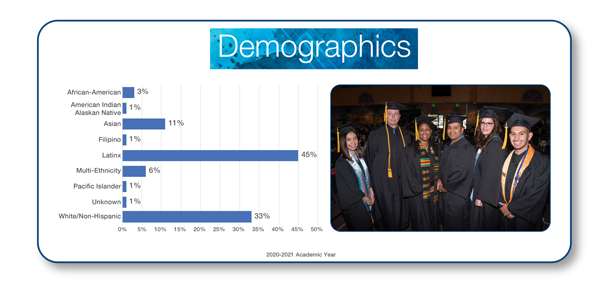 Excellence in STEM
Science, Technology, Engineering & Mathematics
34% of students are STEM majors!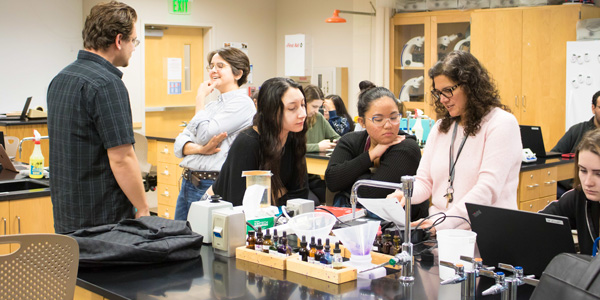 Partnership with Carnegie Institution and Johns Hopkins University (JHU) provides student access to scientific data:
The partnership with C-MOOR (the Carnegie Massive Open Online Research platform developed by Carnegie and JHU) provides biology students access to real data, analytical tools, and an opportunity to develop a research project proposal. Our goal is to lower the barrier between data science careers and first-generation college students by increasing familiarity with the scientific process and the methods used by scientists for data interpretation. We collect and analyze the data, then share our findings with other teaching institutions.
Athletics
CCC's amazing athletic leadership team built a program where students excel in the classroom and on the field. CCC offers men's and women's soccer, swim/dive, cross country, and track. Since the launch of the athletic programs in 2016, our dedicated student athletes earned:
Launch of Athletic Program

| Program | Awards Earned: |
| --- | --- |
| 4-Year Athletic Scholarships | 11 |
| 4-Year Athletic Transfers | 42 |
| Kiwanis Torch Of Excellence Winners | 140 |
| Conference Championships | 3 |
| Team Play-Off Qualifiers | 5 |
| Individual State Qualifiers | 35 |
| All Americans | 16 |
| Conference Awards | 33 |
| Conference MVP Awards | 6 |
| Coach Of The Year Awards | 5 |
| Central Valley Conference Academic Awards | 21 |
| CCCAA Highly Prestigious Academic Awards | 5 |
Mission Statement
Creating Opportunities – One Student at a Time
We honor diversity and serve all students of our community.
We promote opportunities for success and wellness through full access to programs and services, and we provide comprehensive student support to achieve equity. 
We foster critical, creative, and engaged thinking through education based on integrity, generosity, and accountability.
We support student success along pathways to certificates, degrees, and transfer programs, preparing students for thriving futures.
We build community partnerships to enhance student learning and success, thereby advancing economic vitality in the community.
We engage in reflective research and innovation focused on learning and student success. 
Vision Statement
Clovis Community College is the college of choice for academic excellence, innovation, and student achievement.
Board of Trustees
State Center Community College District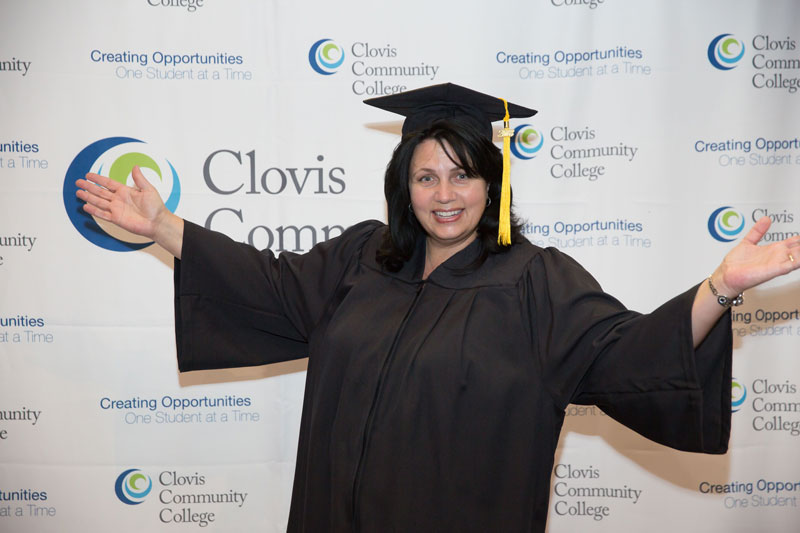 Clovis Community College is one of the newest in the state and has already established itself as a leader in academic excellence.
Scholarships

Over $180,000 raised for scholarships
The support for student scholarships from the community and college faculty/staff has been phenomenal! Since 2017, over $180,000 has been raised for student scholarships from the #GivingTuesday campaign and the President's Breakfast sponsorship program.
Business Partnerships
Successful business and community partnerships with Clovis Community College (CCC) have increased student success and contributed to the economic growth in the Central Valley.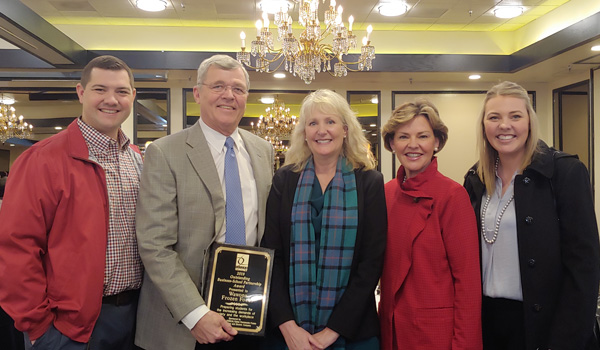 CCC is grateful for the wonderful partnership with Wawona Frozen Foods and for their time and service in the development of the mechatronics/industrial automation and food safety programs. CCC's nominee, Wawona Frozen Foods, earned the outstanding school/business partnership award at the Fresno Compact Business Education Shareholders' luncheon in March.
Small Business Development Center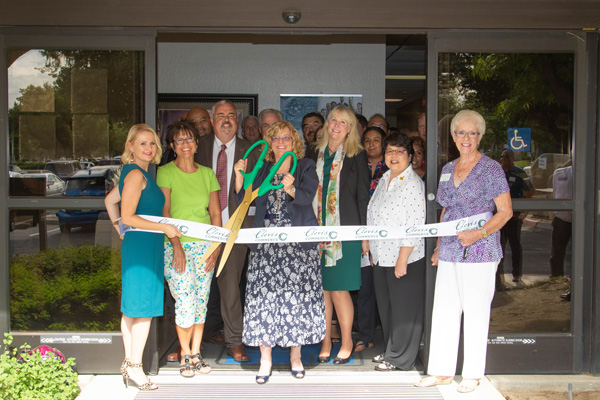 The SBDC at Clovis Community College is part of the UC Merced Regional SBDC Network and receives funding from the U.S. Small Business Administration and the California Office of Business and Economic Development (GO-BIZ). The new center serves students, entrepreneurs, and small business owners with a variety of services including no-cost business consulting, technical assistance, and workshops. Since January 2019, the SBDC has served 342 entrepreneurs and small businesses; supported 858 jobs; helped start 22 new businesses; and facilitated over $9 million in capital infusion for clients.
Commitment to Diversity, Equity, and Inclusion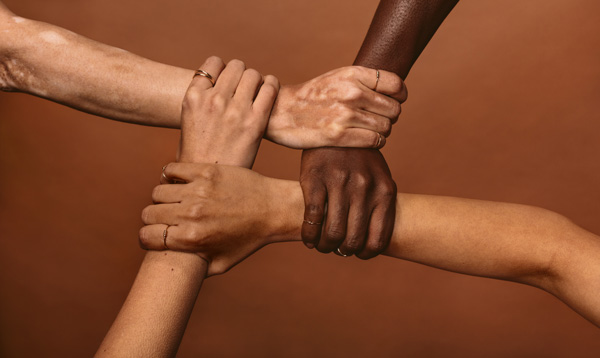 Clovis Community College stands in solidarity with those fighting for equality and racial justice and in doing so, we affirm our commitment to identifying, addressing, and eliminating all forms of racism and ethnic biases. We are committed to establishing and sustaining an anti-racism learning and working environment by becoming racially literate and understanding the ways in which our biases (both conscious and unconscious), power, and privilege influence our institutional services, policies, and practices.
Support Services
CalWORKs
Career and Transfer Services
Disabled Student Programs and Services (DSPS)
EOPS/TRIO
Financial Aid
First Year Experience Program
Food Pantry
Free Transportation Shuttle
Health and Psychological Services
High School Enrichment Program
Leon S. Peters Honors Program
Next Up Foster Youth Services
Tutorial Center
Veterans Resource Center
Support Students at Clovis Community College
Clovis Community College and the State Center Community College Foundation welcome gifts of all types and will work with you and your financial advisor to maximize the tax benefits for you.
Every contribution helps our students achieve their goals, which then provides our communities with a strong workforce for generations to come.
Gifts from private sources are financially administered through the State Center Community College Foundation, a 501©3 organization.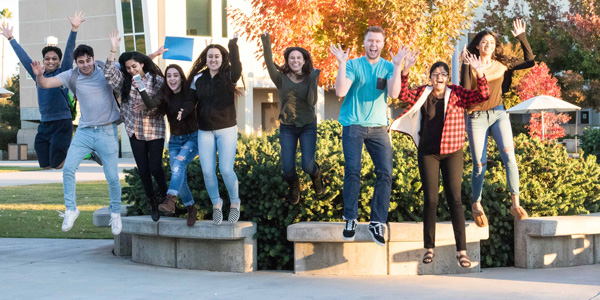 Clovis Community College Executive Leadership
Dr. Lori Bennett, President
Ms. Monica Chahal, Vice President of Instruction
Mr. Marco J. De La Garza, Vice President of Student Services
Ms. Lorrie Hopper, Vice President of Administrative Services
---