Student Equity Update, Classified Leadership Graduates, Featured Department: Counseling, and information on Dual Enrollment. Other updates include, Academic Senate, Associated Student Update, and Classified Senate.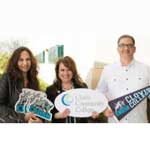 This month's Newsletter features the plan for achieving our Vision for Success. Featured departments include our very own Public Information Office and The Office of Institutional Research. Read updates from our academic senate, classified senate, and associated student body; and the amazing CCC and SCCCD accomplishments.

Read all about opening day; the new Governance Handbook; celebrating Dr. Martin Luther King Jr.; CTE, our featured department; CCC Campus Connect Club (C6); and library fun facts in the first of Dr. Bennett's Newsletters for 2019.