CCC named 2020 Champion of Higher Education; CJ Albertson breaks World Record; Karie Hannigan presented about the importance of creating a student-athlete advisory committee (SAAC) on a college campus. Read about our featured department: Arts, Design and Music Department, upcoming updates, monthly committee updates, Nov - Dec calendar events, and much more.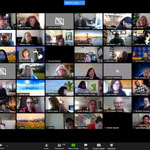 Due to COVID-19, this year's event was virtual with a video highlighting our hard-working scholarship recipients; Dean of Student Services Gurdeep Hébert will be honored on October 20th; Vice President Monica Chahal selected to represent Central Valley for the statewide Diversity, Equity, and Inclusion Steering Committee; read monthly committee updates, and much more in this month's newsletter.

Over 145 faculty, staff, and administrators attended our 1st Virtual Opening Day making it a huge success; More than $500,000 in grant funding has been awarded to Student Support Services (SSS) and Science, Technology, Engineering, and Mathematics (STEM) to continue operation through the 2020-2021 academic year; read Outcome and Assessment Goals for the Year, monthly committee updates, and much more in this month's newsletter.

Read about CCC's focus on student equity and success, our new mission, vision, and values statements; updates on Title IX, construction and the new building, reopening plan, and many accomplishments in this month's newsletter.