Year in Review - 2019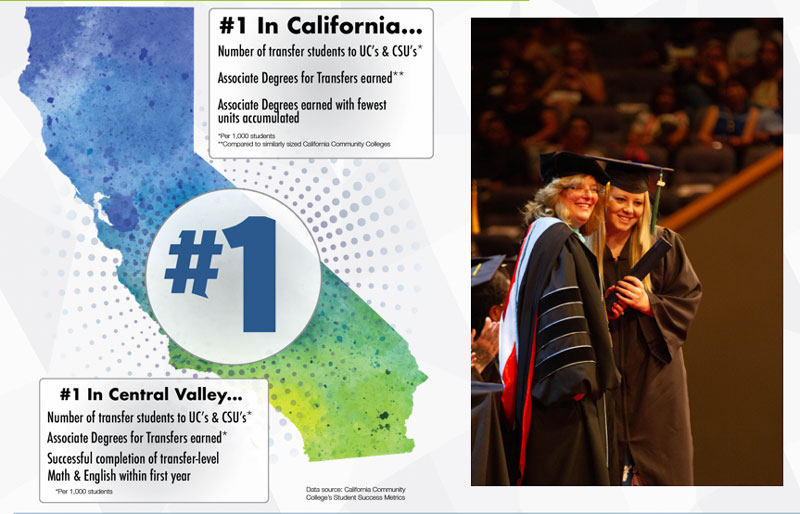 #1 in California...
Number of transfer students to UCs and CSUs*
Associate Degrees for Transfer earned**
Associate Degrees earned with the fewest units accumulated
#1 in Central Valley
Number of transfer students to UCs and CSUs*
Associate Degrees for Transfer earned**
Successful completion of transfer-level math and English within the first year
*Per 1,000 students
**Compared to similarly-sized California Community Colleges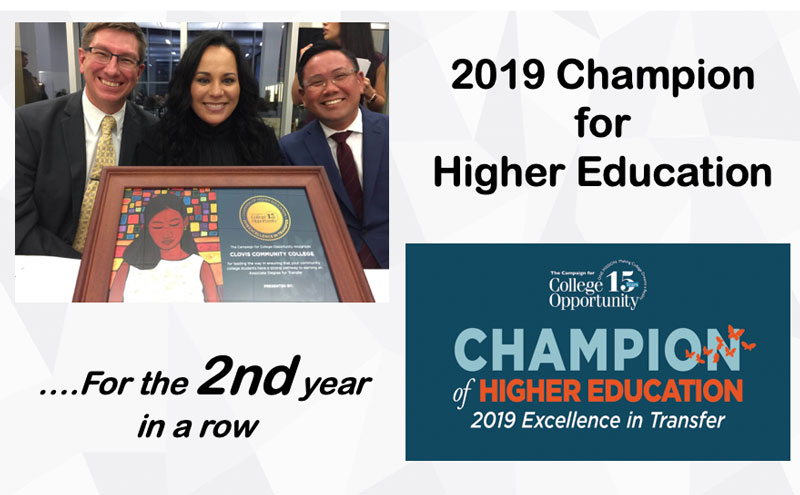 2019 Champion for Higher Education for the 2nd year in a row
Student Achievements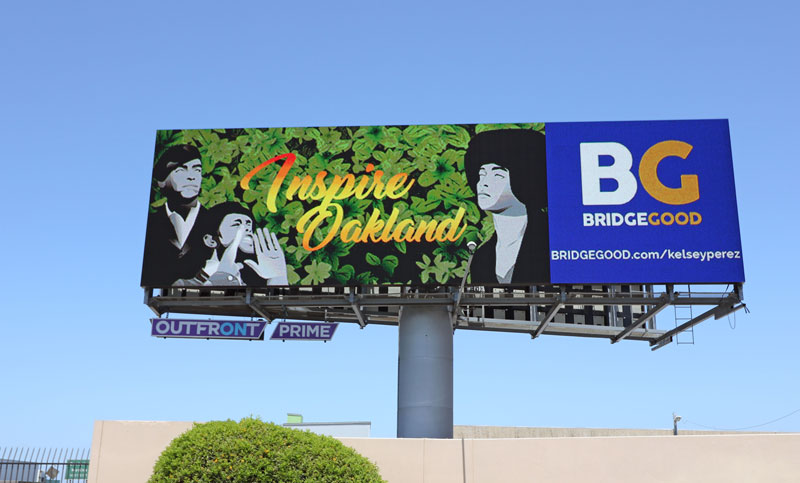 Kelsey Perez' won a state-wide design challenge and had her artwork displayed on a billboard in Oakland: Sponsored by the Bridgegood/CCC partnership
Computer Science students earned 2nd place at Dept. of Energy Cyber Fire Puzzle Competition
CCC engineering students took all four winning spots at the spring 2019 Central California Engineering Design Challenge
Mayra Zamudio earned Dr. Tom Crow distinguished student scholarship (Osher)
Student-Athletes
14 swim and dive team members participated at the state meet
Cross-country teams finished 3rd and 5th overall at the NorCal Regional meet and in the top 15 at the State Championship
Men's soccer team advanced to the 1st round of CCCAA North Regional Playoffs
Women's soccer team – CVC Regional Co-Champions with 1st Conference Title
One Central Valley Conference male scholar-athlete of the year
One Central Valley Conference female scholar-athlete of the year
Employee Achievements
Custodian Manager, Sergio Salinas was the first Clovis Community College (CCC) inductee to (State Center Community College District (SCCCD) Muro De Honor
Biology instructor, Dr. Rosa Alcazar, developed a partnership with Carnegie Institution and Johns Hopkins University to provide student access to scientific data
Math department acknowledged in a national study for positive success results
Staff and faculty volunteered at Habitat for Humanity (repainted Pinedale Senior Center)
Counselor, Carla Stoner-Brito, wrote and published a bilingual children's book, "Carlos Goes to College, Carlos Va a La Universidad"
Cross country and track coach, CJ Albertson, broke the world record on April 13 with a time of 2:17:59.4 in the men's indoor marathon at The Amory's New Balance Track & Field Center in New York City
Coach of the Year Awards for all our athletic coaches
Community Achievements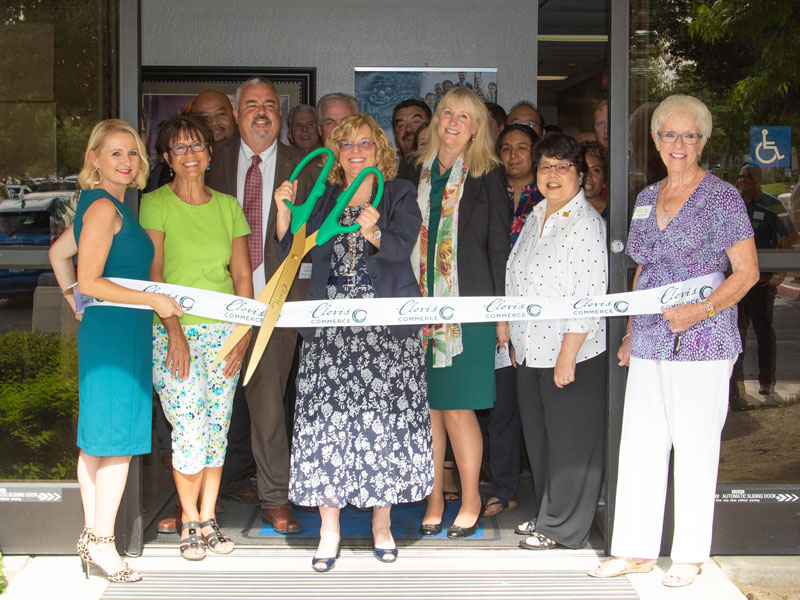 CCC's nominee, Wawona Frozen Foods, selected for the outstanding school/business partnership award at the Fresno Compact
Opened the CCC Valley Community Small Business Development Center: The Grand opening was attended by more than 50 dignitaries, community and business leaders
CCC hosted a variety of cultural speakers/events: Dr. Chike Akua, Paul Chavez, Ela Gandhi, Mexican Independence Day, Asian Pacific Islander month, Black History month
CCC's nominee, Pastor Paul Binion, inducted into the "Wall of Honor" by the SCCCD & African/American Historical and Cultural Museum
Scholarships and Fundraisers

#ClovisCrushGivingDay and the President's Breakfast raised over $168, 000* for student Scholarships, Crush Food Pantry, and the soccer field/track *Running total since 2018
---
SUPPORT STUDENTS AT CLOVIS COMMUNITY COLLEGE
Clovis Community College and the State Center Community College Foundation welcome gifts of all types and will work with you and your financial advisor to maximize the tax benefits for you. Every contribution helps our students achieve their goals, which then provides our communities with a strong workforce for generations to come.
Gifts from private sources are financially administered through the State Center Community College Foundation, a 501©3 organization.
559-324-6484 • scccd.edu/foundation