Multimedia
Multi Media Program - A Vibrant Career Path
At Clovis Community College, we encourage creativity and artistry through traditional and emerging techniques and technologies in the visual arts and music. Through a foundation in drawing and the elements and principles of design, you will learn the latest in industry standards and open-source software.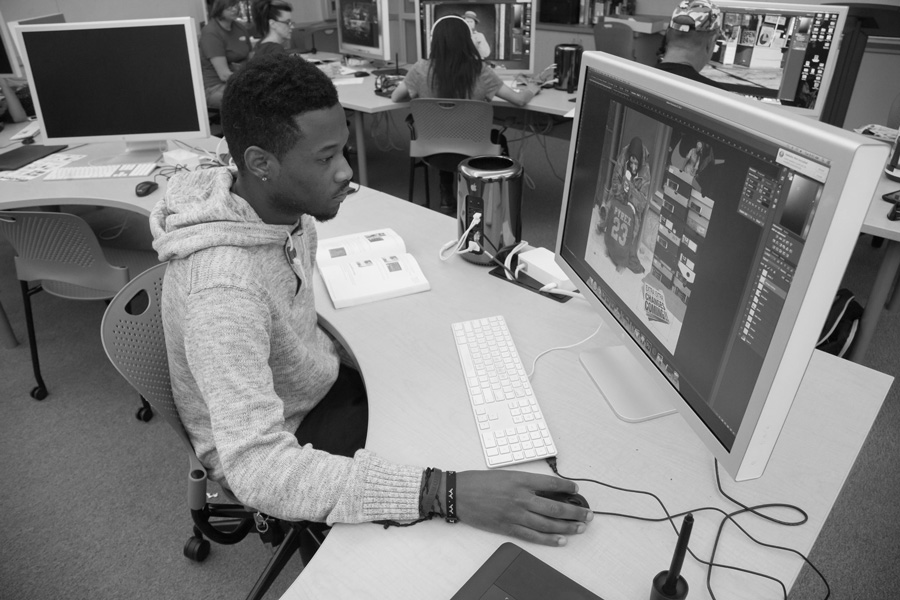 Visual Studies for the Twenty-first Century.
The Digital Multimedia collaboration at Clovis Community College is truly interdisciplinary. With shared facilities, resources, and creative vision, art and music faculty are working together to deliver programs and courses that are meaningful to multimedia students in the 21st-century. To familiarize students with emerging concepts and techniques, we have developed high-tech art and music laboratory classrooms with the most innovative technology in the industry.
---
Why Clovis Community College
State-of-the-art facilities include a Mac computer lab equipped with the best teaching tools available in the industry, including 3D printers and scanners, digital SLR cameras and more
Our Mac computer lab includes analog synths, microphones, audio interfaces and powerful software
---
Degrees offered at CCC
Associate in Arts Degree – Two Dimensional Program
Associate in Studio Arts for Transfer Degree
Programs of Study
Courses
Art Courses:
Art 2: Art Appreciation
Art 3: Two-Dimensional Design
Art 4: Three-Dimensional Design
Art 5: Art History 1
Art 6: Art History 2
Art 7: Beginning Drawing
Art 9: Beginning Drawing
Art 17: Intermediate Drawing
Art 19: Intermediate Painting
Art 30A/B: Illustrator
Art 37A/B: Photoshop
Art 41: Computerized Multimedia
Art 42: 3D Animation
Art 44: Digital Video Editing
Photo 1: Basics of Digital Photography
Music Courses:
Mus 12: Music Appreciation
Mus 16: Jazz History and Appreciation
Mus 23: Western and World Percussion
Mus 31: Concert Choir
Mus 5: MIDI Music Production
---
Careers in Multimedia
Visual Multimedia
Website Developer
Multimedia Artist
Game Designer
2D or 3D Animator
Coder
Graphic Designer
Industrial Designer
Photographer
Film and Video Editors
Broadcast Engineers
Producer or Director
Music Multimedia:
Live Sound Engineer
Recording Studio Engineer
Composer
Sound Designer (sound effects for film, animation, video games)
Performer
Educator
Theatre Staff/Director
Music Retail
Church Music Technician
Radio/Television Broadcasting
Music Curator (iTunes, Pandora, Spotify, etc.)
---
Contact:
Janice Ledgerwood
Art Instructor - Digital Multimedia
559-499-5347
janice.ledgerwood@cloviscommunity.edu
Max Hembd
Music Instructor
559-352-5342
max.hembd@cloviscommunity.edu
Multimedia Instructors
Vanessa Addison-Williams (Illustrator)
David Hallaway (Photo)
Max Hembd (Music)
Kirtley King (Photo)
Janice Ledgerwood (Photoshop, 2D & 3D Animation)
Diran Lyons (Digital Video Editing)
---
Multimedia Flyer (PDF)