Pre-Dental
Today's dentists are highly sophisticated health professionals who provide a wide range of oral health care that contributes to the general health and quality of their patients' lives. They are at the forefront of a range of new developments in dental implants, computer-generated imaging and cosmetic and aesthetic procedures.
Dentists are instrumental in the early detection of oral cancer and systemic conditions that manifest in the mouth. They also can serve as first responders in the event of a large-scale health emergency.
Explore a career in dentistry.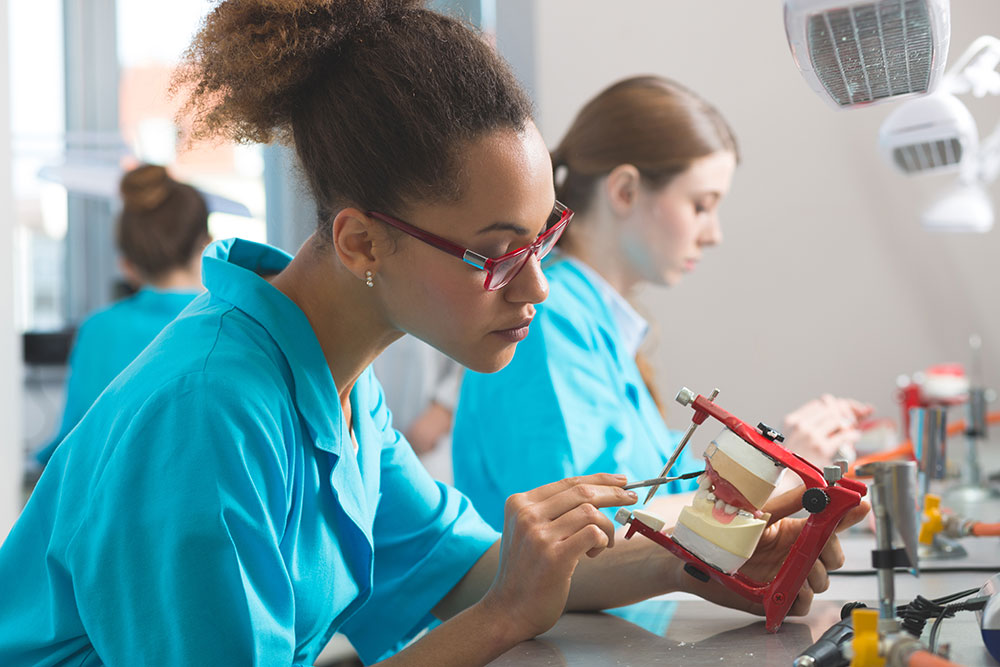 Select a undergraduate major:
A Biology major is not required however, dental schools are seeking students with a strong background in Biology, Chemistry, and Physics. See a counselor to discuss your major/goal and ask for a Student Education Plan (SEP) to help you see your educational path.
Complete Prerequisites:
The prerequisites for the Pre-dental field are: one year of Biology, one year of General Chemistry, one year of Organic Chemistry, one year of Physics, one year of English, and Psychology.
Clovis Community College recommends the following courses: CHEM 1A, CHEM 1B, CHEM 28A, CHEM 29A, CHEM 28B, CHEM 29B, BIOL 11A, BIOL 11B, PHYS 2A, PHYS 2B or PHYS 4A, PHYS 4B, ENGL 1A, ENGL 1B, and PSY 2.
Explore and Research:
There are 2 University of California campuses that offer dental school programs:
There are 4 private Dental institutions in California:
There are many out of state dental schools as well. Information on these schools can be found at:
American Dental Education Association (ADEA): American Dental Education Association (ADEA) is a national organization representing the academic dentistry and is the voice of dental education. ADEA provides information about careers related to the dental field and resources to help educate students, professionals, and educators about policies and publications related to the dental field, as well as educational institutions that offer dental programs.
Become Involved:
Dental School's are seeking well rounded students who have good grades in their prerequisite courses as well as in their undergraduate degree courses. Additionally, they are seeking student's who are involved in their community and/or school activities and who have some type of experience in the health care field. Some examples of becoming a well rounded student would include:
Join an on campus club or organization. CCC has a Pre-Professional Health Club and Science club that is great for Pre-med students. Contact CCC's ASG office at (559) 325-5243 or stop by room AC1 160 for more club information.
Join the TRIO program to help you become transfer ready and support you in transferring to a University. Contact the CCC TRIO Counselor at (559) 325-5230.
Attend Pre-Medical conferences such as the National Pre-Health Conference annually at UC Davis.
Apply for an internship, job shadow, or volunteer at a clinic.
Play a sport or learn a new hobby.
Explore the dental field by visiting www.godental.org, a website providing current information about the pathway into dental education and other oral health careers.
Take the Dental Admissions Test (DAT):
Dental schools require you to take the Dental Admission Test. Registration opens in the Spring you will need to take it during the months of May or June.
Apply to Dental School:
The Associated American Dental Schools Application Service (AADSAS) is a centralized application service for most United States dental schools. The application period opens up every year in June and closes in February. Do not wait until February, it is best to apply by December.
Prepare for Interview:
You may be given the opportunity for an interview. During your interview you may be asked questions that are related to the current and controversial issues surrounding the Dental field. You can stay up to date with those issues by visiting the American Dental Education Association website.
Once Accepted:
Once you apply and are accepted to a dental school; the dental school curriculum is usually four years. The first two years consist of: biological science courses, function of body, oral diagnosis, and dental treatment procedures. Students are also permitted to interact with patients on basic oral hygiene. Third and fourth year student's focus on clinical study and patient care. Upon completion of the dental program students are required to take a licensure exam to become licensed to practice.
Additional Dental Opportunities:
Other great opportunities you should look into are the Summer Health Professions Education Program (SHPEP) a free six-week summer academy for freshmen and sophomore students to learn more about how to prepare for medical and dental school. Visit their website for eligibility and program requirements.
Visit www.explorehealthcareers.org to get more information about the different health careers you can pursue.
Make an appointment with a Counselor by contacting the CCC Counseling Office at (559) 325-5230 for more information.