High School Enrichment
The Clovis Community College High School Enrichment program offers students in the 10th, 11th, and 12th grades an opportunity to enroll in college courses and receive college credit. Exceptions to this policy are outlined in the High School Enrichment application.
Generally, courses of a remedial nature, courses for which failing grades were earned, and courses required for high school graduation do not meet the intent and spirit of the program. Students must meet all the necessary prerequisites for any course in which they wish to enroll. Students admitted to the program are treated as new students each semester attended, and are eligible to register during the open enrollment period.
Benefits of the Program
The ability to get ahead and earn college credit while still in High School.
No tuition costs - Student is responsible for books and materials required for the course.
Eligibility
A student may qualify for the program with a cumulative high school GPA of at least a 2.5 (Juniors and Seniors) and a 3.0 (Sophomores).
Approval from the high school principal, a high school counselor, and a parent ARE REQUIRED.
The Application Process
High school students must begin the process with their high school counselor.
State Center Community College District (SCCCD) Admission Application is available October 1st for spring, & April 1 for summer/fall. (Please note - An online Admission Application is only needed for new students to the High School Enrichment program. Students who've participated in the previous semester do not need to complete this application.)
Please enter the following highlighted information on the application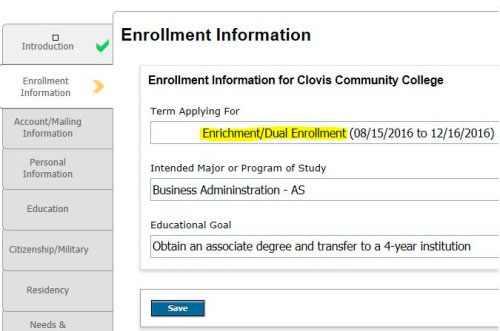 High School Enrichment application with all required signatures. CCC Educational Enrichment Application Packet. Your high school counselor must assist you in the selection of your requested course(s). This application is required for each term you wish to take a course.
A current and complete High School Transcript.
FERPA release form (included in the application packet) is required before a student can register for classes.
Submit completed application and all supporting documents (You must include your 7-digit SCCCD Student ID number) by email to eduviges.matsumura@cloviscollege.edu. You no longer need to mail in your completed form.
Once your application has been approved by the college, you will be registered by Admissions and Records and you will be contacted by the High School Enrichment Counselor. Not all courses listed in the Clovis Community College schedule are available to High School Enrichment students.
We are unable to process incomplete applications and it is the student's responsibility to ensure the application is complete.
Cost
Tuition and health fees are waived for students participating in the High School Enrichment program.
Students are responsible for purchasing supplies and books required for each class
Contact Information
Brandon Huebert | (559) 325-5230