Technology Help for Students
My Portal
The best way to access Canvas, Self-Service, and student email is through  MyPortal. You can always find a link to MyPortal from anywhere on the CCC website at the top right, above the main menu. Look for the MyPortal icon: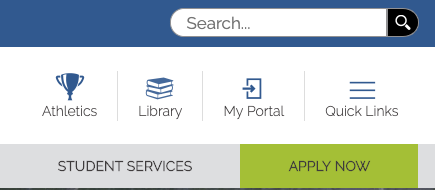 For help with issues related to Canvas, email access, or Self-Service, please visit SCCCD Self Help for information and articles, frequently asked questions, and 24/7 technical support.
Email Information
Please make sure that you use your proper email address which does not include your student id.
WiFi Instructions
Need Help?
CCC Technology Support Services Help Desk
The CCC Technology Services and Support department provides comprehensive installation, maintenance and troubleshooting for our main campus and the Herndon campus. We take pride in being customer service oriented and strive to support our college mission of Creating Opportunities, One Student at a Time through excellence in technology tools.
Bldg AC1, Room 110
Email: techhelp@cloviscollege.edu
Phone: (559) 325-5294
Technology support for staff, faculty, and students
Open computer lab for student computing
The Open Computer Lab is located in AC1-120. The hours of operation are Monday through Thursday, 7:30am to 8:00pm, and Friday, 7:30am to 4:30pm.