Newsletter April / May 2018
Outstanding Outcomes!
Why Do PLO Assessment?
Do you ever wonder how students, in general, are faring in your discipline's courses on a more holistic level? Program Learning Outcome (PLO) assessment can help you answer that question. Each Clovis Community College (CCC) degree or certificate has PLOs (as written by faculty) that each student should obtain upon completing program coursework. Looking at data as it pertains to what you want your students to know once they have mastered your discipline can lead to interesting insights and conversations about what works well in your program and what could use a boost.
How Do We Assess PLOs?
In the past at CCC, most programs discussed PLO assessment simply in a summary prompt within the former five-year "comprehensive program review" reports. However, this method did not always lead to productive conversation about program outcomes.
As CCC moves away from the former program review process and into the new Unit/Program (U/P) planning model, the Student Learning Outcomes coordinator will begin working with faculty in fall 2018 on finding the PLO assessment method that will work best for your program. Options include (but are not limited to):
roll-up data of SLO data
portfolio evaluation
comprehensive term papers
pre/post assessments
skills tests or objective exams
surveys
Who Does PLO Assessment?
Discipline faculty within all instructional programs are the ones best suited to examine PLO data. While instructors can often base this data upon SLO results (using the "roll-up of SLO data" method mentioned previously), discipline faculty should have a separate conversation about what those results mean for the program as a whole.
Ideally, the conversation about PLO assessment results should involve all discipline faculty on a campus. Part-time instructors are undoubtedly included in the student PLO data, and they can help provide valuable insight for the analysis.
When Do We Assess PLOs?
As with all outcomes assessment, accreditation standards expect "a regular cycle of assessment," which gives colleges some freedom to decide for themselves. With the former program review cycle, PLO discussions occurred only once every five years. With the upcoming shift into the U/P planning two-year cycle and the move from TracDat to eLumen, PLO discussions will happen every two years along with the usual process of SLO reporting.
Stay tuned for a workshop session on PLO analysis around opening day / flex day, fall 2018!
Need Help?
SLO Coordinator: Anna Martinez anna.martinez@cloviscollege.edu.
SUO Coordinator: Erica Johnson erica.johnson@cloviscollege.edu.
SUO Super Stars!
Library Services: Using SUO Assessment to Enhance What Is Already Good
Library Services administered an online survey after students' research sessions to gauge students' satisfaction with their grasp of library service SUOs. Overall, students had positive responses and showed no level of dissatisfaction with their reference assistance interactions. Students reported that they felt better prepared to use the catalog to locate items in the library, to use the research databases to locate information on their research topics, and to determine credible sources outside the library's own resources.
Because of this assessment, it was determined that a more in-depth research session would enhance the existing research sessions. In fall 2017, Library Services implemented the new Book-A-Librarian research session option that provides students with scheduled, lengthier, one-on-one time with a librarian. These sessions offer a setting for more effective information competency instruction.
Book-A-Librarian Research Session
This new extended research service began in fall 2017 and has proven to be a popular choice among students seeking in-depth, one-on-one instruction with a librarian. Brooke Ramos, the Title V Librarian, is the coordinator, and all of the CCC librarians are prepared to participate as needed. Students can request librarian from the library's web site or in person.
Students have three different sessions to choose from including:
a 30 minute research planning period to teach them how to begin researching, or
a 30 minute research help session to assist students in developing in depth research skills, or
a 15 minute time period to learn how to correctly cite information sources in MLA or APA citation styles.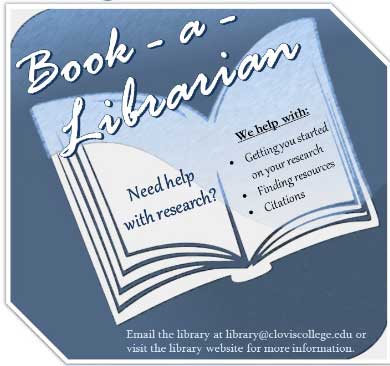 The Book-A-Librarian Appointment
The librarian assigned to the request responds to the student with an appointment date/time within 24 hours. Students go to librarian offices with computers and relevant print materials available for each appointment. Librarians spend an average of two hours preparing for a student's visit and are ready to instruct the students as they assist them in their respective research needs. Library Services designs these sessions as effective information competency instruction, where the student learns to broaden/narrow topics, develop print and online database search strategies, evaluate information for accuracy and relevancy, and cite sources accurately. Students receive a worksheet to assist them in recording some of the methods for effective research taught during each session.
Data Collection For Fall 2017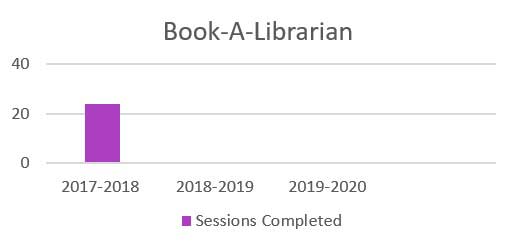 Increasing Library Services is a component of CCC's Title V Grant. The goal is to increase the number of sessions over the next two years of the grant. Data collected for 2017-2018 included students served from October 30, 2017 through April 5, 2018.
For questions on Library Services, contact Cynthia MacDonald at cynthia.macdonald@cloviscollege.edu (ext. 5353) or Brooke Ramos at brooke.ramos@cloviscollege.edu (ext. 5380).