Commencement Highlights 2022
Commencement Highlights - album 1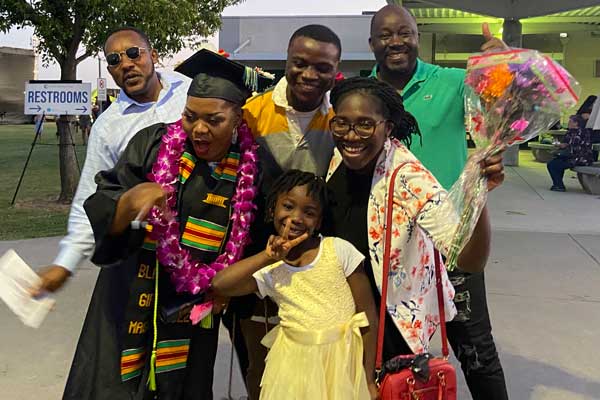 Commencement Highlights - album 2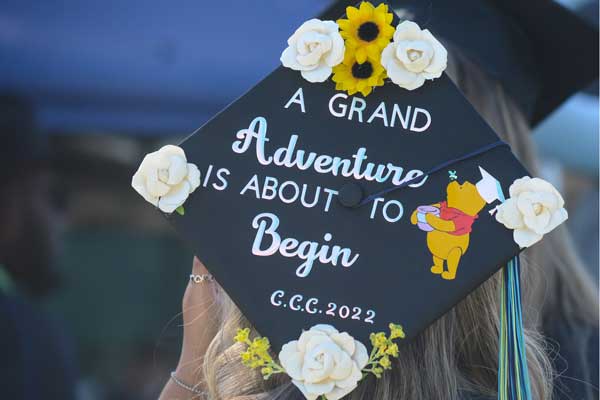 Commencement Highlights - album 3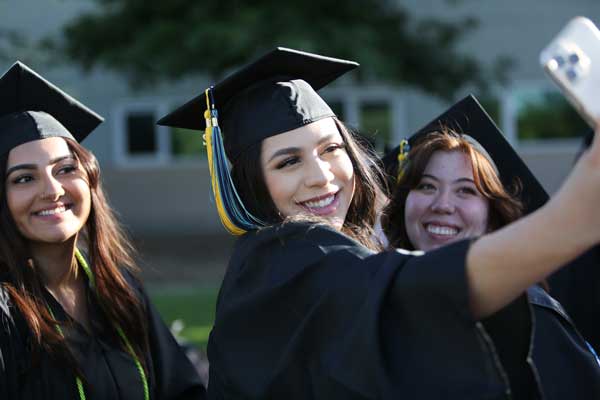 Leon S. Peters Commencement Highlights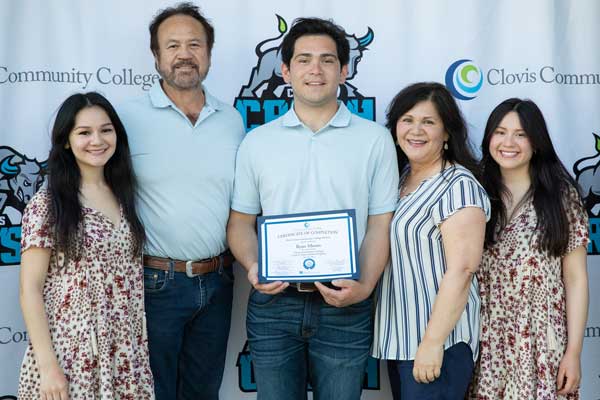 Occupational Therapy Assistant (OTA) Commencement Highlights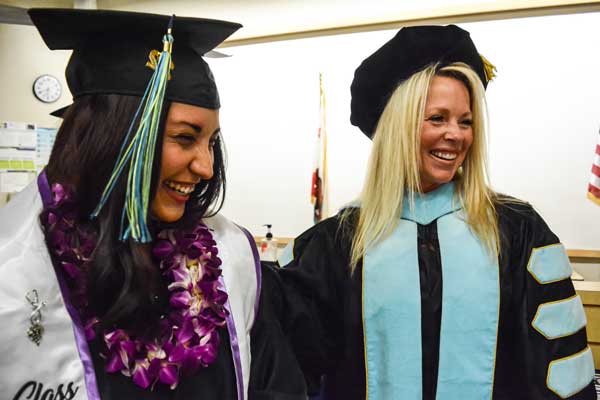 Commencement Highlights - Athletics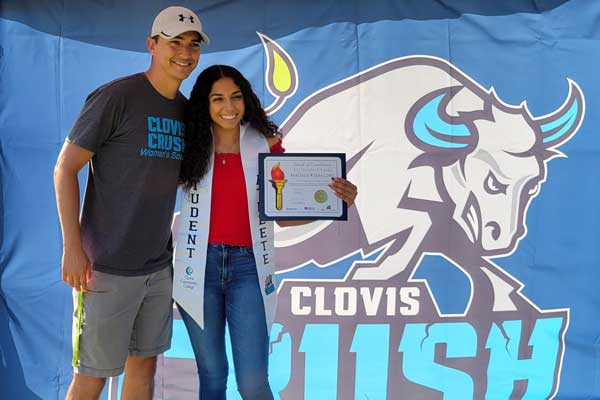 Commencement Highlights - Child Development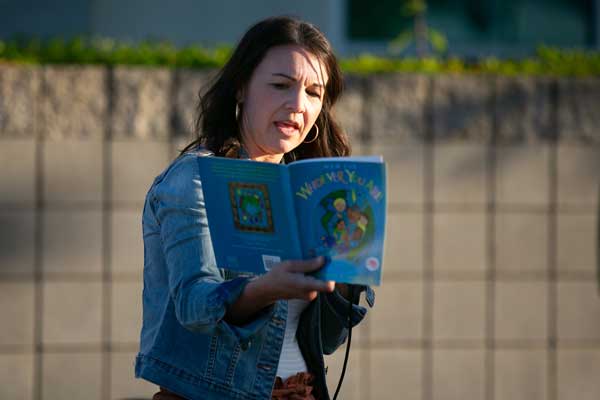 Trio Eops and Calworks Graduation Celebration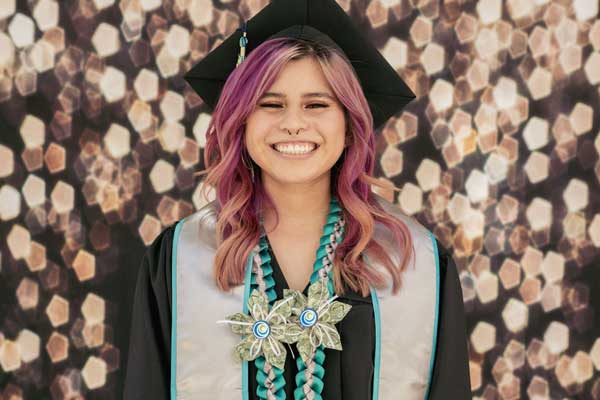 Trio Eops and Calworks Graduation Celebration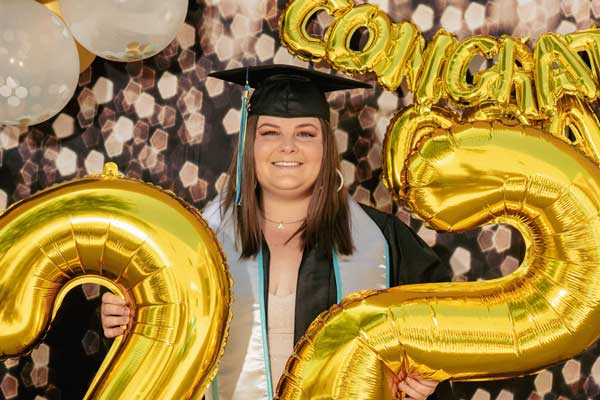 Facebook Live - Commencement 2022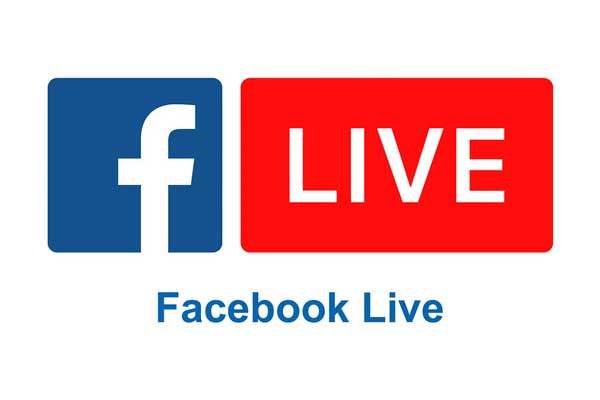 YouTube Live - Commencement 2022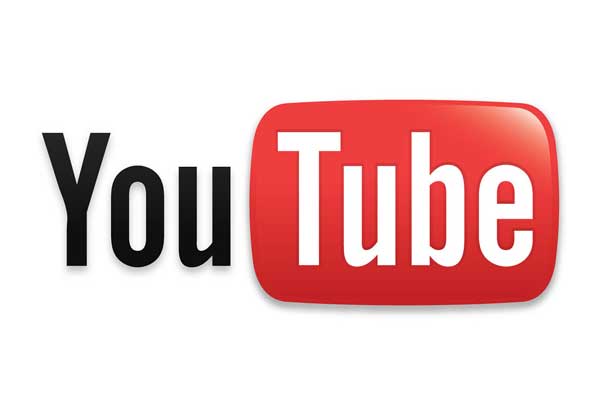 2022 Medals of Distinction
Carlos Alexander Brito Earns the 2022 President's Medal of Distinction
The President's Medal is given to a student who has demonstrated leadership at the college, given back to the college or community, and still maintained high academic achievement during their time at Clovis Community College.
Carlos is a student of integrity, respect, and patience and it is clearly exhibited through his work as a Student Ambassador at Clovis Community College. Carlos has excelled in the college's Student Ambassador program by helping plan and execute many college-outreach activities and retention strategies. He was able to use his creativity to assist the Outreach department in developing ideas and plans that help foster overall student success. His organization and personable qualities make him an incredible asset to the Student Ambassador program.
Carlos is optimistic, dynamic, and is generous by nature. As a Student Ambassador, he is thrown into situations where he needs to think on his feet and be flexible. He is not shy and steps up to the plate when asked to do so. He is a role model for the other Student Ambassadors and has true leadership qualities within him. He graduated with a 3.8 GPA and with the skills he's learned here at Clovis Community College along with his qualifications, personal characteristics, and strengths we are confident he will reach his educational goals of one day working for the FBI. Carlos has what it takes to complete his goals as he is laser-focused, and motivated and he exemplified student leadership, success, and diversity in many ways. Carlos truly represents what it means to be a Clovis Community College student.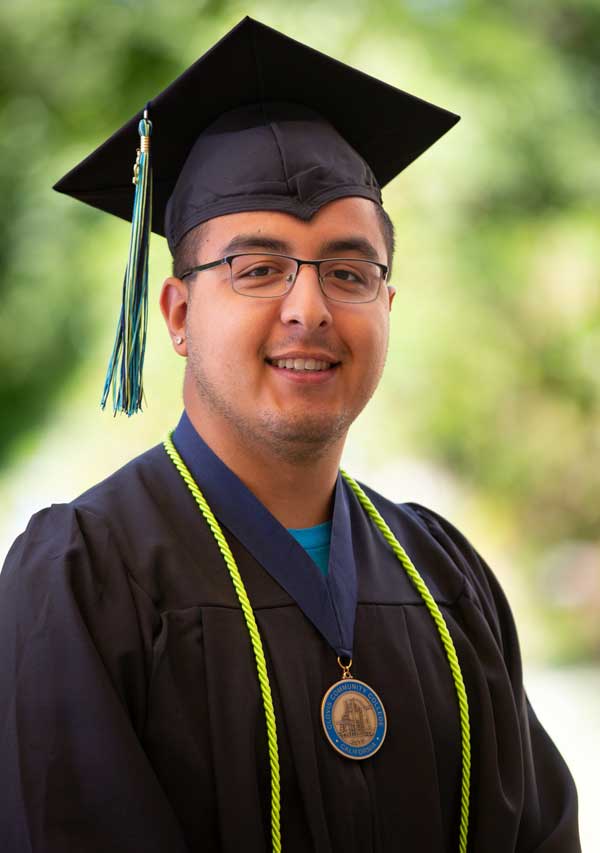 Carlos Alexander Brito
---
Dean's Medal of Distinction
The Dean's Medal of Distinction is given to one graduating student from each division who has distinguished themselves by their perseverance, the quality of their work, and their positive impact on the campus.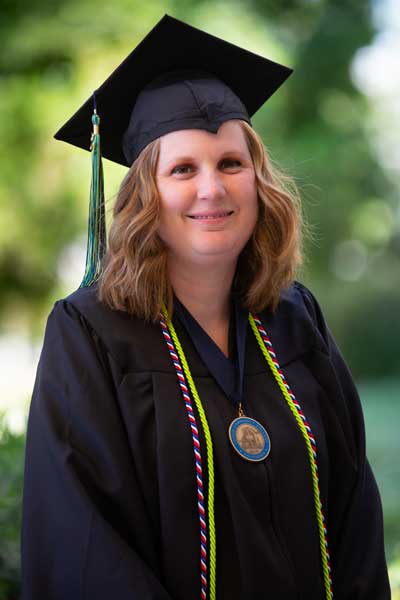 Heidi Layne Ecker
Humanities, Social Sciences, and Athletics
Staff Sergeant Heidi Ecker was an airman in the US Air Force. Heidi served 15 years, did tours in Iraq and Afghanistan, and is a combat veteran. Heidi is an integral part of our Veteran's Center, helping veterans register for courses and directing them to the services they may need. She also serves as a peer mentor for other veteran students and has helped organize events such as this semester's Ladies and Leprechauns to help female veterans at Clovis Community College find a home within our veteran community. Heidi earned a 3.8 GPA while working in the Center and being a busy mother of three teenage children.
Her Communication instructors say: "Heidi is a WONDERFUL student...a dream. She is the sort of student who works hard not only on all major assignments but the minor ones as well." Heidi graduates Magna Cum Laude as she prepares for her next journey at Fresno State to pursue a Bachelor's degree in Communication.
She would like to thank professors Anna Martinez and Brianda Louro Parreira (PARR-ERA) for their support. A big thank you to Courtney Sparrow, the Veterans Counselor who reached out and helped guide Heidi back to college. A shout out to Natalie Mines (MEE-NUS), her boss in the Center, and to fellow vet Billy Pryor, who served as a peer mentor and friend to her. Finally, Heidi thanks her husband Phil, sons Anthony and Patrick, daughter Amanda, and her mom Karen for the love, support, and encouragement they gave her along the way.
---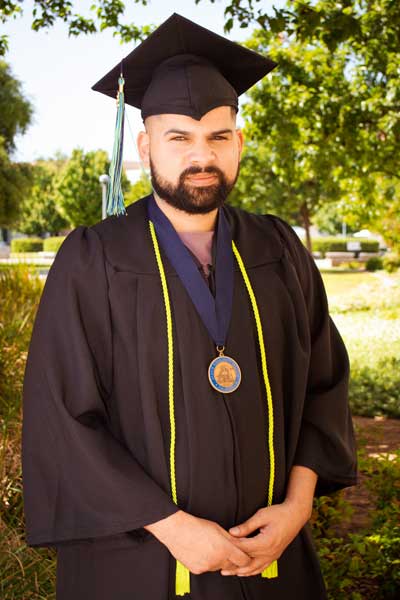 Tomas Arturo Garcia-Gallardo
Student Services
Tomas Garcia was born in Tijuana, Mexico, and moved to California at the age of two. He spent his early years in South Central, Los Angeles before settling in the Central Valley. As a first-generation college student, Tomas has worked as a field hand, a barista, and more recently as a server. He is graduating from CCC with 4 degrees. Associate degrees in computer science, mathematics, physics, and liberal studies. He has been active in the Dreamers Club at CCC, attended events, conferences and has been an active participant and advocate for services for Dreamer students
Through setbacks and disappointments, Tomas has persevered because his belief in education is unwavering. Tomas has earned a cumulative GPA of 3.6 and has been offered admission to the University of California Riverside, UC Santa Cruz, and CSU Fresno. Tomas is a strong believer in science and education and hopes his journey can inspire others to seek higher education. If he can do it, anyone can.
His long-term goals are to complete a master's degree in computer engineering and one day find a way to give back to the community that has given so much to him. Tomas would like to acknowledge the tutorial center because, without them, he would not have completed the tough classes. Tomas also sends a big thank you to the counseling team.
---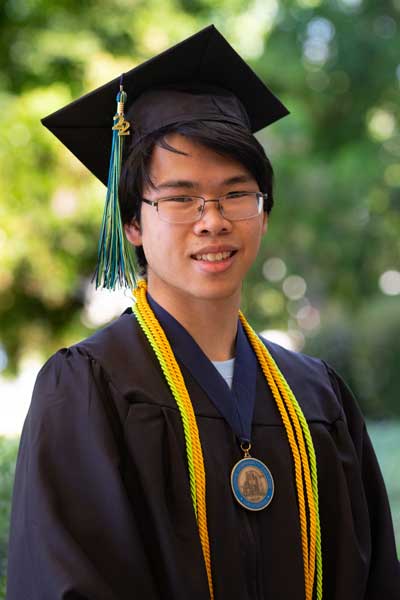 George Mo
GeorScience, Technology, Engineering, and Mathematics (STEM)
A Clovis East graduate, George began his Clovis Community College career fully online during COVID. He credits his professors with being instrumental in creating community while everything was remote. As our college re-opened, George became involved with the tutorial center where he quickly became a favored tutor for STEM students.
His professors noted, "George goes above and beyond what is required for the class and does his own research into topics that he finds interesting," and "Loved by classmates and tutees - people have chosen to enroll in classes with George because they know he is taking it too."
With a 3.909 GPA, George is earning associate's degrees in Natural Science, Life Science, and an AS-T in Biology. George completed his TAG (Transfer Admission Guarantee) to UC Davis and will attend there this coming fall, majoring in Molecular Biology and Biochemistry. His ultimate goal is to become a professor and work to inspire the next generation of scientists. We congratulate and are proud to recognize Sachakra George Mo with the 2022 STEM Division Dean's Medallion.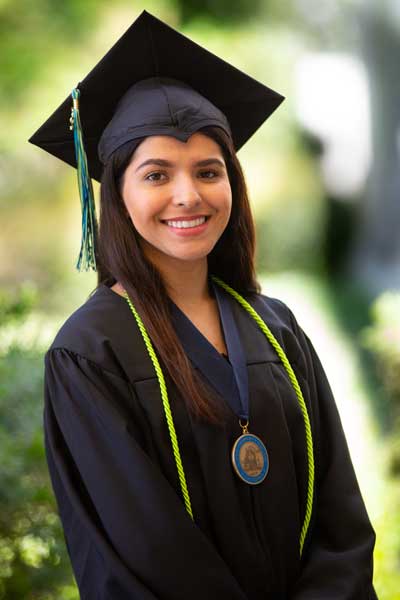 Estefania Ponce
Student Services
Estefania, like many graduating seniors in 2020 had different thoughts about what it would be like going to college as an incoming freshman. However, the infamous COVID 19 had different plans.  Working fully online was very difficult. Four years prior to this, Estefania's father passed away and she was still working through that loss. The pandemic added another layer of stress. Estefania shared this: "Starting my first year of college online, was not what I expected. It was the most difficult transition of my life. It tested everything I had, emotionally, academically, socially, and physically. I lacked motivation, my grades were slipping, and I felt alone. In fact, I had doubts about coming to Clovis Community College. I continuously asked myself whether I had made the right choice."
However, Estefania was determined. She continued to work as a Student Ambassador and remained engaged with the various support programs such as EOPs and TRIO. As soon as possible, Estefania was back on campus despite a 50-minute drive from Chowchilla to Clovis Community College. One thing CCC has taught her is to not close the book when bad things happen in life. Turn the page and begin a new chapter. She was determined and she wanted to be a good role model for her siblings; something she knew would make her father proud.
Jessica Cristina Wright (pictured right)
Career Technical Education
Earning an AA in Social Science and an associate degree for transfer in Business. With an overall 3.55 GPA, Jessica is a model of inspiration, perseverance, and tenacity.
At the end of 2018, Jessica moved to Fresno to flee a domestic violence situation. She experienced several challenges including single parenting, homelessness, and unemployment. After connecting with the Marjaree Mason Center, she had some stability to begin healing, rebuilding, and focusing on her future.
Coming to Clovis Community College, Jessica participated in CalWorks, TRIO, EOPS/CARE, and DSPS. These programs played a major role in Jessica's next steps. She started excelling in the classroom and becoming involved on campus. In addition to becoming a student working in our Admissions and Records office, Jessica was named to the State Chancellor's office Black and African American Advisory Panel. Her input has been critical to improving access and equity for students of color throughout our statewide and local systems.
Her future plans include attending a CSU this fall and eventually becoming a strong leader in our community. Again, please join me in congratulating CTE Dean's Medallion recipient Jessica Wright.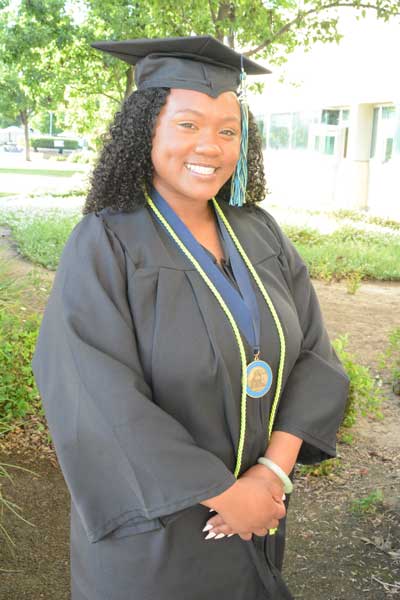 ---
DIPLOMAS AND CERTIFICATES
Diplomas and Certificates will be mailed to all graduates, free of charge, approximately 60 to 90 days after the end of the semester to the most current address on file with the College.
Please login to WebAdvisor via MyPortal to make sure your address is current, and make changes if needed.