Commencement Highlights 2023
2023 Commencement Photo Gallery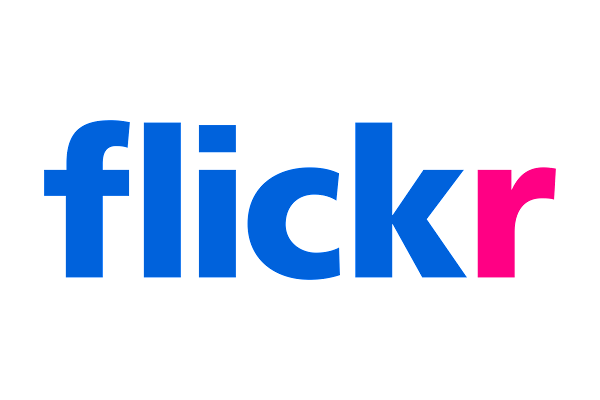 YouTube - Commencement 2023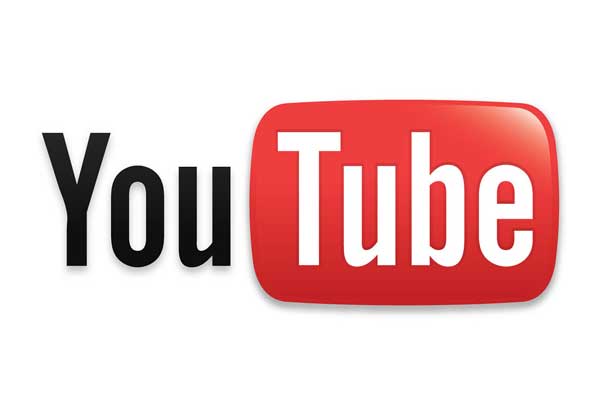 2023 Medals of Distinction
Cristian Martin Castro-Oliva earns the 2023 President's Medal of Distinction
The President's Medal is given to a student who has demonstrated leadership at the college, given back to the college or community, and still maintained high academic achievement during their time at Clovis Community College.
Cristian Castro-Oliva is a first-generation college student who is leading by example in pursing higher education. His parents moved to California from Peru at a young age. Later in life, when Cristian was a freshman, they had to move back to Peru for a while. They eventually moved back to California. This experience ignited a deep connection to his roots and gave him a sense of purpose that continues to inspire him today. He hopes to be a pillar of guidance for his community. He currently works as a tutor, has been the VP of finance for ASG, he also worked in the Financial Aid Office, and mentors students in the same or similar major. He also participates in the EOPS and TRIO programs. Cristian is kind, passionate and treats everyone with respect. His natural curiosity to learn has led him to majoring in computer science.
Cristian is a true example of how a community college can change lives as he started with trigonometry at Clovis and finished with differential equations and three semesters of calculus-based physics. Cristian has excelled in the rigorous discipline of computer science and has maintained a 3.9 GPA. He is graduating from Clovis Community College with multiple associate degrees in math, physics, economics, liberal arts & science, natural science and computer science, along with certificates in CSUGE and IGETC. He has multiple transfer offers ranging from Cal Poly to UC Irvine. Congratulations Cristian, we are very proud of you!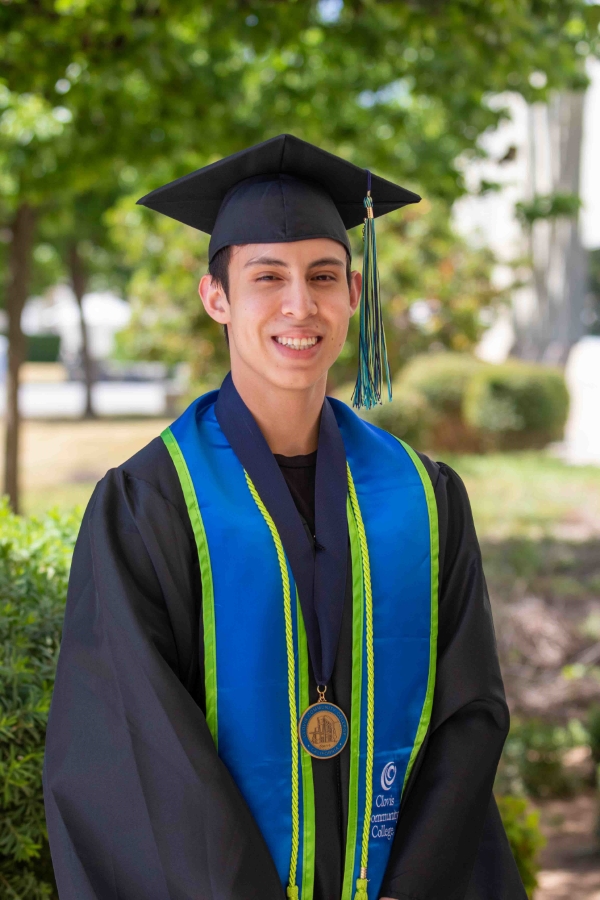 Cristian Martin Castro-Oliva
---
Dean's Medal of Distinction
The Dean's Medal of Distinction is given to one graduating student from each division who has distinguished themselves by their perseverance, the quality of their work, and their positive impact on the campus.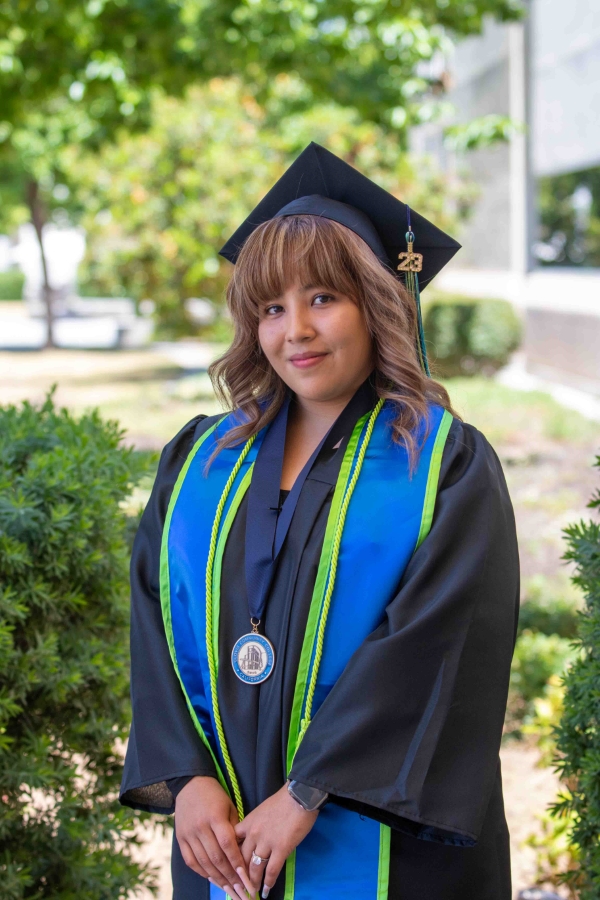 Ana Paola Penaloza Becerril
Student Services - Counseling, Admissions & Records, Health Services
Ana was born in Mexico and moved to California at the age of 6. Not only is she thankful for this opportunity but is also thankful for the great support system of her family who have always inspired her and told her to follow her dreams. Ana is also extremely grateful to her mother, who decided to leave everything behind for a better future for her family. Without her mother's sacrifice, she wouldn't be standing here. Ana also shared utmost gratefulness for the Counseling team and EOPS program at Clovis Community College, but gives special thanks to Angelita Zaragoza, who has guided her along this journey and shown her what it looks like to follow your dreams and love what you do. It may be difficult to see progress at times, but during moments like this, Ana realizes she is one step closer to her dreams.
Ana reminds us to be patient as everyone has their own timing on their pathway, and if you believe in yourself and don't get discouraged by all of life's pressures, anything is possible. She strongly believes in education and hopes to inspire others to work hard and utilize the opportunities and resources available as not everyone in the world has access to a college education. Ana is graduating with an Associate Degree for Transfer (ADT) in Psychology, an Associate Degree for Transfer in Child and Adolescent Development, an associate degree is social science, an associate degree in liberal studies, and a certificate in CSU General Education. She will attend Fresno State in the fall and plans to become a college counselor. Congratulations, Ana. You crushed it!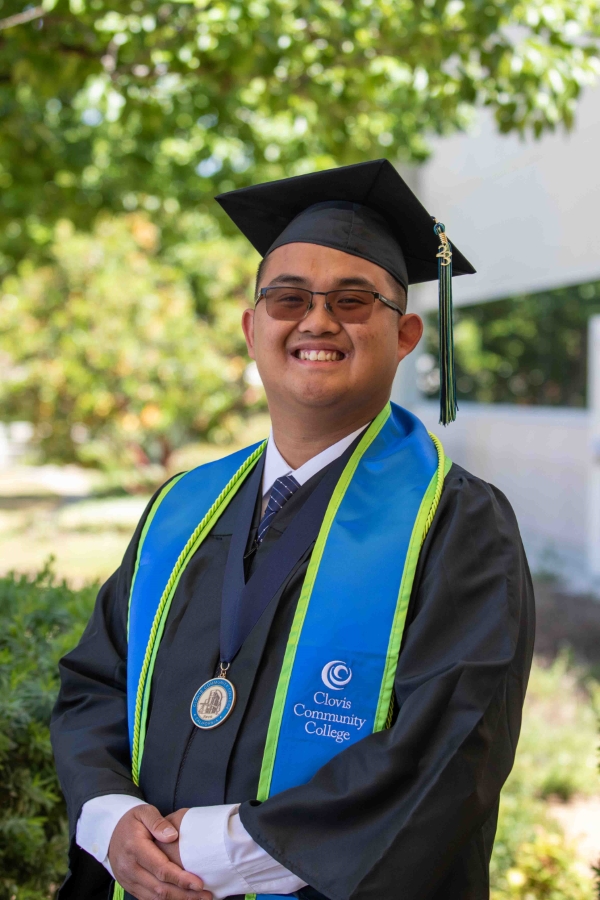 David Jansen De Vera
Social Science
David has a heart and passion that few possess. David began his Clovis Community College journey three years ago with a goal of working with young children. His personal goal of working with children is what drove him to overcome several challenges along the way. David has shown his resilience and commitment to the field of Early Childhood Development despite overcoming learning challenges. David was able to utilize the resources of Clovis Community College including our DSP&S services to provide accommodations and instructional resources that he then utilized in his own development of how he wants to work with children and provide them with that same support.
David's academic growth was so significant over the course of the 2022 semester, that the Clovis Community College Child Development Center encouraged him to apply for an intern teacher position in the Preschool. David successfully earned this position and began his journey as an Early Childhood Education teacher. As David completes his Clovis Community College journey, he has already committed to a position with Clovis Unified School District to be a preschool teacher this fall. David credits his instructors, the DSP&S staff, and his counselors for all their support and encouragement during his time here. David's favorite memory while at CCC was "working at the CDC with the kids." We congratulate David on his accomplishment of earning a California State University General Education Breadth, Certificate of Achievement, and an Early Childhood Education for Transfer degree.
Navdeep Kaur
Student Services - Student Success, Equity & Outreach
Navdeep was born and raised in the small town of Caruthers, just outside of Fresno. This is where her passion for public service first began. During her two years at Clovis Community College, Navdeep double majored in Political Science and Administration of Justice to work towards a career in law. On campus, Navdeep served as Vice President of the Alpha Gamma Sigma Honor Society, promoting civic engagement and community service. She also began working on campus as a Student Ambassador, where she had the opportunity to build personal connections with both students and faculty. Navdeep was able to help prospective students in the community apply for college and help them successfully begin their coursework.
While at Clovis Community College, Navdeep was able to get hands-on legal experience with the Fresno County District Attorney's Office. Navdeep worked closely with the prosecutors in the misdemeanor unit by drafting legal documents, attending trials, and transcribing 911 calls. This experience solidified her decision in wanting to become a prosecutor, where she will have the ability to seek justice for victims of crimes, especially those in underserved communities. Navdeep will be graduating with a 3.85 GPA, and she plans to transfer to either UCLA or UC Irvine for the upcoming fall semester. Navdeep always goes above and beyond to support and encourage everyone on campus, and always make sures that people know they belong.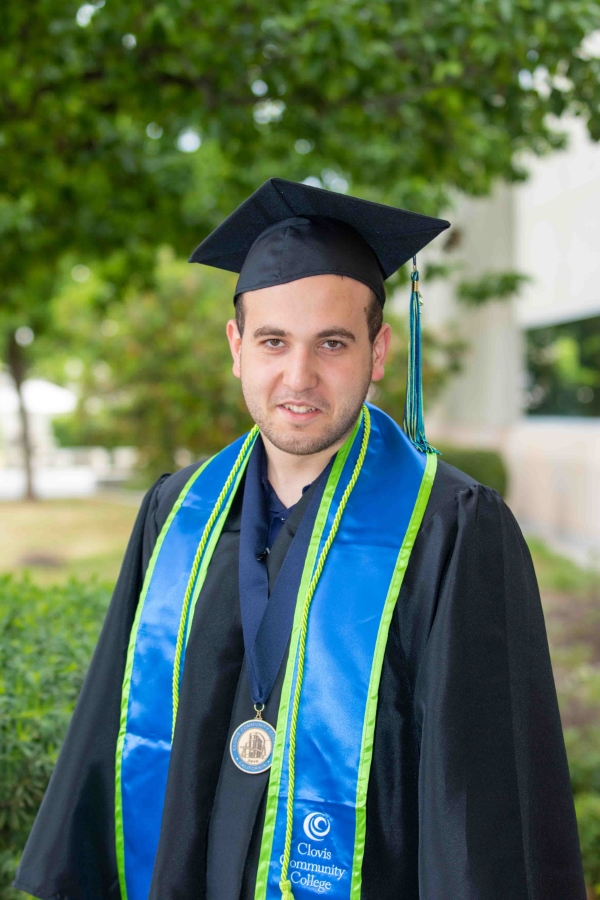 Grigor Mkrtchyan
Physical & Computational Sciences and Distance Education
Grigor immigrated to the United States from Armenia when he was 12 years old and spoke almost no English. After completing High School in Glendale, California, and earning eight awards for high honors in math and sciences courses, he moved to Fresno and enrolled at Clovis Community College. He is a physics and chemistry double major and has a 3.8 GPA. His involvement in four research projects for his classes and as extracurricular projects is impressive. He presented these at our annual STEM research symposium on May 12th and plans on presenting a research poster at the American Chemical Society National Meeting in San Francisco in August.
His projects include:
GC-MS analysis of fetal pig preservative solution. He and Professor Shamp are monitoring qualitative and quantitative information.
Researching human genes that are responsible for biosynthesis of amino acids in the human body.
Looking at the structure and function of proteins using FT-IR and small angle X-ray scattering with deuterium – hydrogen exchange and how that changes the spectroscopic signals.
Collecting tap water from around Fresno County and analyzing for nitrate and nitrite using Grey's reagent. This generates a colored solution that can then be quantified using a standard curve.
Grigor has volunteered in our chemistry stockroom preparing solutions, materials, and equipment for a variety of lab courses. He is an active member in our biochemistry club and speaks three languages English, Armenian and is learning Russian. When he has time, he delivers packages for Amazon on the weekends. He is hard-working, intelligent, and dedicated. Grigor is nice, humble, and almost always has an infectious grin on his face.
Moreover, Grigor is a big fan of soccer (he calls it football) and supports Leicester City, his favorite club.
Grigor really loves doing research and has been afforded various opportunities at CCC, which is a great step to help him reach his goal to become a research scientist.
Grigor is attending UC Berkeley next fall and majoring in both physics and chemistry. He then plans to go to Cal Tech to attend graduate school and earn a Ph.D. in physical chemistry. His long-term goal is to work for NASA conducting scientific research. Additionally, his future plan is to help to develop science in countries like Armenia, Greece, Serbia, Bulgaria, Romania, Cyprus, countries from Africa, and help others to choose careers in science.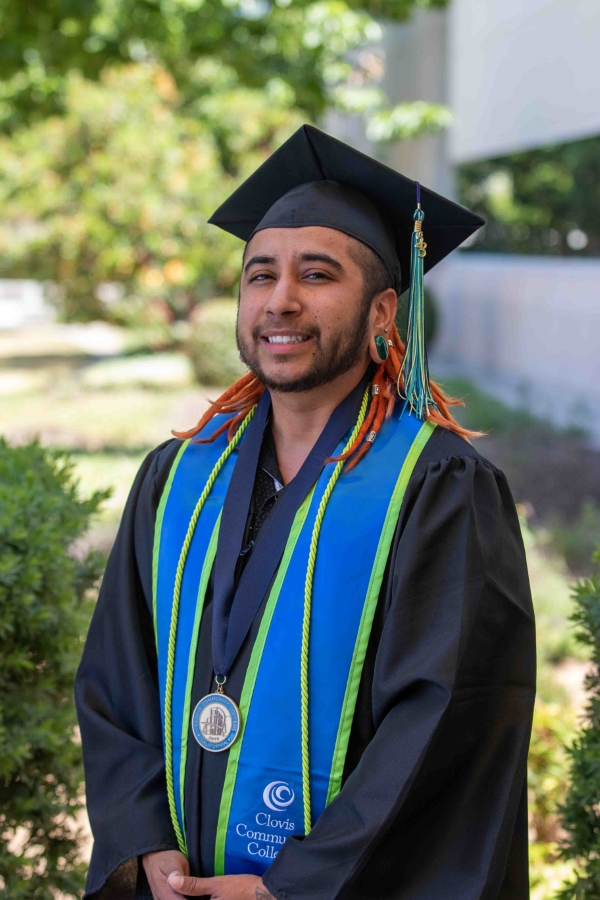 Shane Palomo
Humanities & Athletics
Shane Palomo has done stellar work both in and out of the classroom, double majoring in Business and Communication. There is nothing that deters him from reaching his goals, no matter the obstacle. He accomplishes this with a most positive presence and a huge smile on his face. On campus he has been an active member of the Communication Club, LGBTQ+ Club, Delta Alpha Pi (DSPS Honors club), and the TRIO program. He is a fiercely proud first-generation student. During his time at Clovis, Shane has gone through tremendous life changes. From the strong Latino work ethic passed on from his grandparents, Shane works full-time at Starbucks to provide for him and his wife and has saved enough to purchase a home. Shane is a transgender male who advocates for the LGBTQ+ community on campus and locally. He began his transition as a student here, and through all the trials, continues to stand and is willing to discuss difficult topics and advocate with an open heart. Shane is determined, honest, empathetic and has a fantastic soul. He will continue to inspire this fall as a transfer student majoring in communication at Fresno State. His goal is to work for Starbucks Corporate in marketing or communications and travel the world.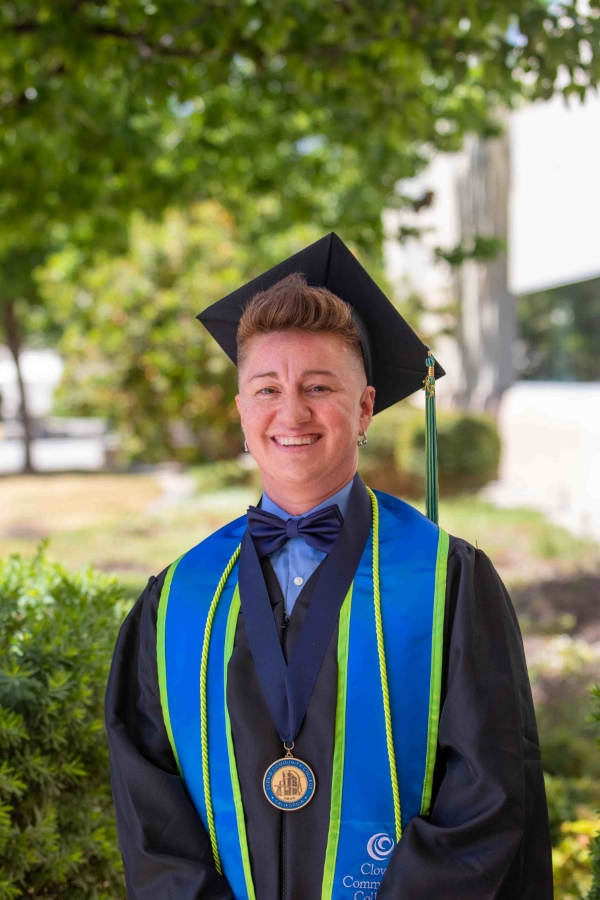 Melissa Leeann Scheidt
Natural & Health Sciences

Melissa "Kodie" Scheidt's educational journey began with completing and obtaining certifications including Emergency Medical Technician (EMT), Electrocardiogram (EKG) 6 & 12 lead, mental health and first aid, and CPR/AED. Additionally, Kodie acquired her Associate of Arts degree in Liberal Arts & Science with a focus on Natural Science, which she completed in May 2017. Kodie also received the "Dr. Tom Crow Distinguished Student Scholarship" in 2022. Kodie reports, "The Occupational Therapy Program (OTA) program has been the most challenging yet the most rewarding moment in her life."
Kodie is an extremely passionate and empathetic individual who has dedicated herself to helping and aiding in the lives of others through health, wellness, and advocacy. Since 2005, Kodie has strived to participate in medical field training and job experiences that have prepared and guided her to the career path of an occupational therapy assistant. A critical component that guided Kodie toward the path of earning her occupational therapy assistant degree was accredited to her work experience of eight years at Fresno State Wayfinders. While at Wayfinders, Kodie taught independent living skills that included nutrition, personal hygiene, self-care, and time management to young adults with intellectual and developmental disabilities. Through this experience, Kodie developed a love and passion for occupational therapy.
Kodie's life hasn't always been as positive as it is today. Kodie was faced with some hardships throughout her life which ultimately led her down a dark path where at one point she thought there was no other way to live life other than through these decisions. After many years going back and forth, with support from family and her continued Faith in Christ, she realized that this was no way to live. She found a job at Copelands and met incredible people who reminded her of what life is really about. She found passion in the things she once loved like snowboarding and being active. This led her to go back to school, finding a job at Fresno Community Hospital which then led her to Wayfinders where she was able to use her newfound passion for life to work with those who were also struggling. Kodie realized that if she was able to find her passion and purpose even during her darkest days then there must be a way that she can help others who are also in dark or challenging moments in their lives. Moving forward, her goal is to utilize her knowledge, education, empathy, and caring nature to help patients regain a functional, meaningful, and fulfilling life.
---
DIPLOMAS AND CERTIFICATES
Diplomas and Certificates will be mailed to all graduates, free of charge, approximately 60 to 90 days after the end of the semester to the most current address on file with the College.
Please login to Self-Service via MyPortal to make sure your address is current, and make changes if needed.