Career Resources
College Central Network (CCN)
Clovis Community College uses College Central Network (CCN) as its official resume and job posting service. Students, alumni, and employers can easily create an account by clicking the icon below or by going to www.collegecentral.com/cloviscollege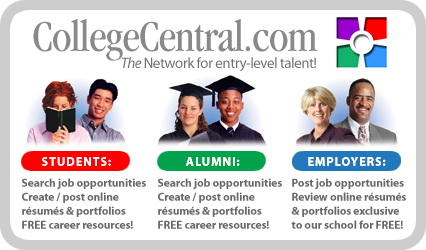 ---
If you are confused or undecided about your career goal, it is time to do some career planning. The Clovis Community College Career Planning Guide will take you through a step-by-step career planning process, with suggestions about online services and resources that will help you as you engage in this process.
NOTE: If you are a Clovis Community College student, currently in attendance, and need one-on-one assistance with career planning, contact the CCC Career Center. We offer a guided career planning process involving 4 sessions in the Career Center.
---
Other Resources
Listed below are several career assessment websites where students can take assessments to assist in selecting a career path and research important information about careers.
Eureka (please contact the career counselor, Dianna Whaley, for site access.
What can I do with this major?
---