Write Now: February 2019 Edition
A Monthly Publication by Tutorial Center Students:
Thoughts on Food
Ebelskivers: A Danish Delight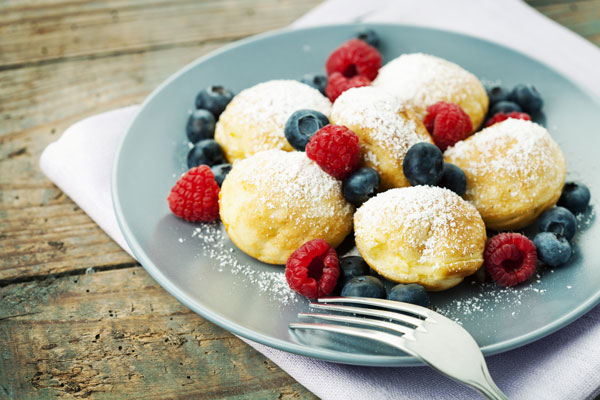 Years ago, I traveled with my family to the quaint, Danish town of Solvang, CA. The town is well-known for its scandinavian influenced architecture and food; specifically, famous for a unique pastry, ebelskivers.
My grandfather described the pastry to me in detail before we ventured to the famous "Solvang Restaurant" home of the ebelskiver.
He explained that the dough balls are made up of flour, baking powder, and salt. Then, egg yolks, milk, and 2 tablespoons of melted butter are added to the other ingredients to craft the batter. Next, egg whites are whisked until stiff enough to be added to the batter. Afterwards, the batter is poured into a special ebelskiver pan and heated for four minutes on each side. Then, after the dough balls are heated to a good consistency, powdered sugar and jam can be spread on top of the ebelskivers. All that is left afterwards is to enjoy.
Okay, my grandfather didn't go into that much detail into the creation of an ebelskiver, but after enjoying their doughy deliciousness on that first trip to Solvang, I would recommend them to anyone who enjoys a good pastry.
By: Seth Craig
Check out Write Night in AC1-141!
Join us February 27th, March 27th, and May 1st from 4pm-6pm.
Five Places to Get A Sweet Treat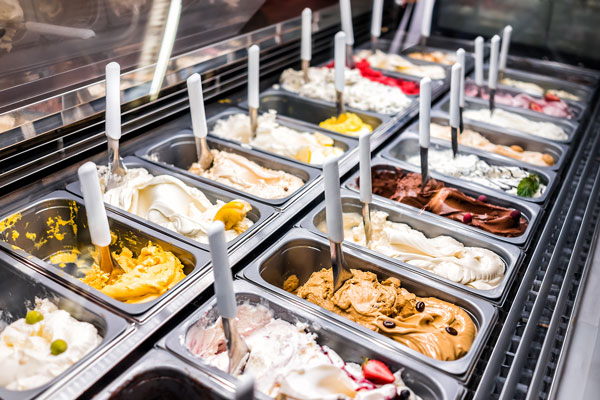 See's Candies: While not necessarily a local joint, See's Candies still features
some delicious chocolates for a relatively good price, not to mention it is the only place I
know of to get the Scotchmallow. I encourage everyone to try the Scotchmallow—or else.
Hungry Bear Cookies: A cookie joint that serves fresh, daily baked cookies with
a wide range of flavors and types. My personal favorite is the oatmeal chocolate chip cookie!
Dutch Bros Coffee: A coffee shop with sweet service accompanied with even
sweeter drinks, Dutch Bros's drinks have so much sugar in their drinks it's like drinking
raw power and energy. But if you're just trying to crunch a sweet tooth instead of getting a
fix of energy, I recommend trying a strawberry, blackberry, and vanilla smoothie with whip
cream!
Roll Me Some Rolled Ice Cream Parlor: This hole-in-the-wall parlor in Old
Town Clovis features some of the yummiest rolled ice cream with some of the nicest people
in the world working there. Try the Nutella and Chill!
Mickey's Yogurt: A local favorite featuring a wide variety of rotating flavors of
yogurt and an dizzying topping selection, Mickey's Yogurt is a great option to top off a date
night or satisfy a sudden sweet tooth. I get the White Chocolate Mousse with the strawberry
boba!
By: Peter Garza
---
Stacy Ross | Tutorial Center Coordinator:
My Pizza Opinion
While I won't claim to be an expert on pizza, I like to think that I know quite a bit, and when it comes to Fresno, I also am by no means an expert having only moved here a mere three years ago. There is still a lot more about this city that I have yet to discover, but I know one thing for sure—I do like eating pizza.
Back in highschool, my mom would joke about me having pizza at my wedding since I ate it so much. After I moved here, I started my quest to find a good pizza place and while this quest is still ongoing, I have found a place that I think may be the best: Popolo's Pizza on Palm and Nees. The establishment actually catered my wedding, so my mom's teasing was not entirely invalid. I have not tried as many of the local pizza parlors here as I wish I had, but in terms of convenience, there are a few pizza chains that are my favorite.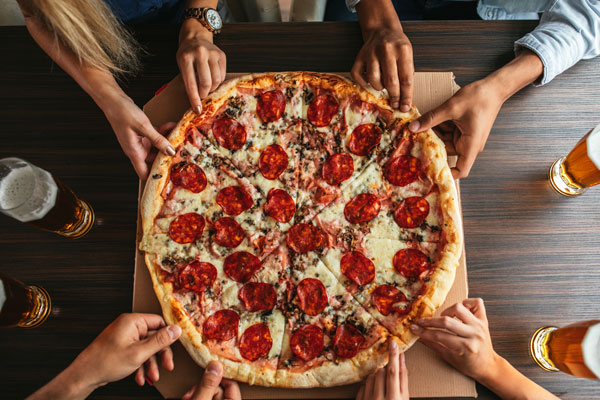 My top favorite pizza parlor is Little Caesar's Pizza, which has great pizza for the price and its new Pizza Portal makes for the optimal amount of human interaction—none. With its mobile app, you just place the order and then it notifies you that your pizza is ready and you simply walk in, type the three digit code into the portal, and receive your pizza. But on days where I am too lazy or just don't feel like leaving the house, I usually order Dominos since their customization options are amazing. If I decide on Dominos, I usually order a deep dish pizza with bbq sauce, chicken and ham; this is one of the few times where I don't order a simple cheese pizza.
By: Andrew Bell
---
Zack's Kitchen Nightmares
This month's edition of the Write Now is dedicated to the finer things in life: food. And what better
way to celebrate the joys of food than with delving into the darker side of gastronomy?
We've all had terrible dining experiences, but some of these experiences go beyond mere dissatisfaction with our food. I'm talking about those times we've experienced something truly disgusting. So that I can continue eating at these restaurants I am about to denounce, I am going to maintain their anonymity. Except for Panda Express. To begin, we have to go back to 2008. Beijing Beef was the new item on Panda Express' menu and I was pumped. Well after eating it for lunch, I ended up having to empty my stomach into the next morning. I emailed Guinness requesting to be in 2009 World Records Book for this feat. I was not emailed back.
Fast forward to 2018 and I'm in a San Francisco deli with my girlfriend. Upon entering, I see the disheveled state of the place, but I'm no diva. I order my sandwich and everything is fine. That is until I look over at the pastry display case. Flies. Flies crawling all over the croissants, the coffee cake. Buzzing flies around the store is one thing, but how do bugs get inside a sealed display case? That's a new level of negligence. I'm going to end here so that you can eat your lunch without feeling nauseous, but stay tuned for Kitchen Nightmares Part II.
By: Zack Calusdian
---
Clovis Tutorial Center:
Offering tutoring in the following areas:
Biology
Business
Chemistry
Computer Science
English
Economics
Engineering
Information Systems
Mathematics
Music Appreciation
Philosophy
Physics
Political Science
Psychology
Statistics
Spanish
And more...