How to Renew or Return Items
How to Renew Items
All items that were eligible for renewal for the spring semester have had the due date extended to the end of the semester. If you have questions about renewing an item, please call the library at 559-325-5215 for additional information.
HOW TO RETURN ITEMS
If, in the past 14 days you have tested positive for COVID-19 or been exposed to COVID-19, or if you are awaiting test results, or exhibiting any COVID-19 related symptoms, please call the library and we will extend your item until it is safe to return the item.
All technology and library items can only be returned at our curbside service. You do not need an appointment to return items.  If you are NOT registered in any CCC spring classes, all CCC items you have checked out were due by December 16, 2020. You can still return your overdue items during the dates listed below.
NOTE: this does not apply to textbooks you have rented from the Bookstore. For more information, visit the bookstore website.
Spring 2021 return days and times:
Monday:    9:30 a.m. to 5:00 p.m.
Thursday:  9:30 a.m. to 5:00 p.m.
(No returns during Spring Break: March 29- April 2, 2021)
Instructions for returning items to the library
Enter campus from the International Ave entrance across from Clovis North H.S.

Remain in your vehicle at all times

Call the library at 559-325-5215 when you arrive at the CDC drop-off circle

A face covering is required when on campus and during the transaction 

A return receipt will be emailed to your student email address.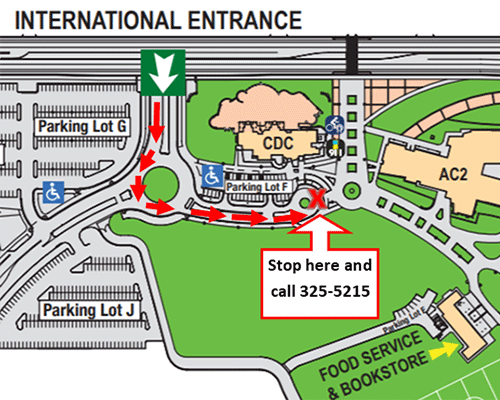 Please note that if you have saved anything on a CCC laptop, you are responsible for saving your work elsewhere before returning the laptop. Personal data will not be recoverable after the laptop is returned. If you need assistance saving your work, please contact Clovis Technology Services at 559-325-5294 or email them with your phone number and ID number at techhelp@cloviscollege.edu.
If you have any questions, please call the library at 559-325-5215, or email us at library@cloviscollege.edu. Be sure to include your student ID number in the email.