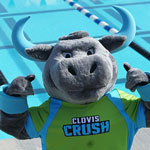 The Crush Athletics Program offers a variety of sponsorship opportunities for local businesses and welcomes all donations to support student-athletes and help the program grow. Find out more about sponsorship opportunities at the gocloviscrush.com website or donate from the link below.

Proper nutrition is essential to student success! The Crush Pantry is a safe place where students, who might otherwise go hungry, can stop by and pick up something to eat.

The Clovis Community College Scholarship Program has helped students attending Clovis Community College to achieve their educational goals. Scholarships are a financial resource provided by local businesses, community groups, alumni, and a variety of private sources.